Back to top
FINISHER AREA AT SALT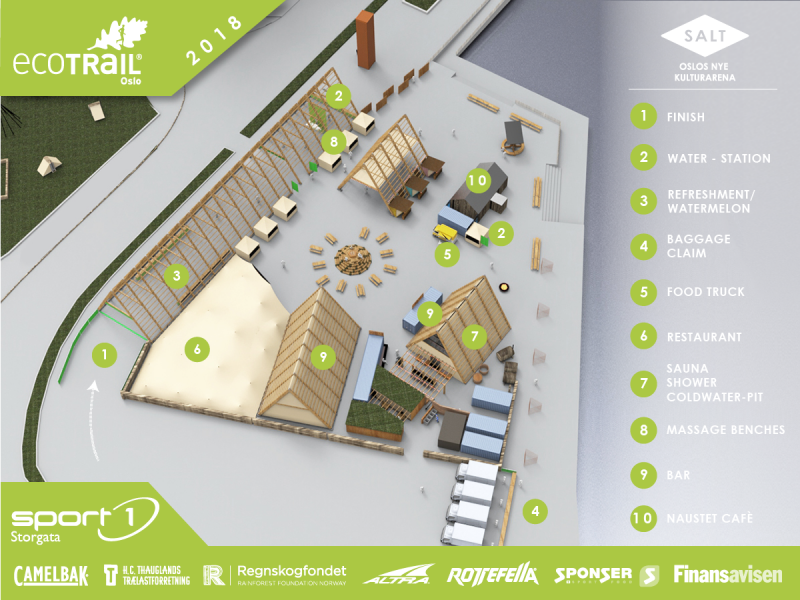 All finishers will be offered water melon and water inside the finisher line. 
50 km and 80 km will have their own table with free eco/veg-sandwich.
Medals and finisher shirt also inside the finish line.
Outside the finish line you will have access to free treatment if you suffer from cramps or sour legs or need ice, bandage or other - there will be four physiotherapists. Also access to bars and food trucks (not for free), sauna and shower (not for free), and it is free for all to jump into the fjord.
Our sponsors will have booths and where you can get to know these and their products. There will be a DJ in the area as well.
Our finisher area will be in cooperation with Salt. SALT is a nomadic art project currently situated on Oslo's shoreline, overlooking the city's famous Opera House. As you stroll along the shoreline from the Oslo Sentral Station towards Vippetangen Port, you will find yourself walking under a gigantic fish rack. In the north of Norway, the fish rack is used to dry fish.
On an area of 5000 square metres, SALT comprises several spectacular wooden constructions. In these buildings there are sauna, bar, showers, amfi theater and more. The largest construction, the 75-meter-long Arctic Pyramid towering like a cathedral over the seaside promenade.
This cathedral will be the finisher line. The sauna, showers and bar (indoor and outdoor) will of course be open on the race day