Back to top
FAQ
Questions about poles and the 21 km Nordic Walk
1:Is it mandatory to walk with poles on the 21 km Nordic Walk?
Answer: Absolutely not. 
2: I would like to walk with poles, can I rent or borrow from Ecotrail Oslo?
Answer: Sorry, we do not have this service.  You should try poles at a retailer, get the correct height and make sure you buy a pair you feel comfortable walking with. 
I regret I didn't´t add shirt and medal! Too late?
No, log in at EQ Timing where you registered and click on your registration then click "add products"...Bring a receipt to the start number distribution if you added these after May 17th ! 
Where is the invoice / my payments?
When you registered you received an email from EQ Timing. Check spambox as well. If you can´t find it in your inbox, please log in at EQ Timing. Bring your receipt/invoice to the bib-distribution.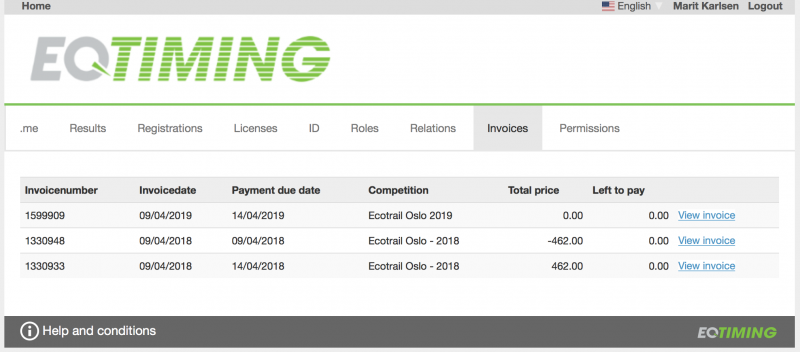 Kan jeg løpe med barnevogn?
Det kan vi dessverre ikke tillate. Det er mange smale stier. 
I did not order race shirt, is it too late?
Log in to your profile at EQ Timing. Click additional products. Deadline May 6th. After May 6th you can buy the shirt at bib distribution. Cash or Vipps (Norwegian mobile payment application) only.
Where do you distribute the shirt?
It will be distributed together with the bib number. 
I have ordered race shirt, but have to cancel the race – can you please send it to me?
We can send out, but do not cover postage costs. 
Will you mark the trail with flagging tape?
Yes, yellow/red flagging tape all the way +  white paint on the ground at crossings. In addition to this there will be signs at critical points. (New of 2019)
Race Rules in Ecotrail Oslo?
You MUST read the race rules here.  Or go to Race Rules and Awards via the link in the left menu (sub menu) here on our web site. 
Participants - where can I check who´s registered?
Check the number of registered Particpants of 2019 here. You can also search between distances, name and age. 
Something came up and I can´t participate. Can I transfer my bib to next year?
Sorry, that is not possible. 
Is there a waiting list if sold out / after the registration has closed?
Once registration has closed, it is no longer possible to get a bib. Maximum capacity has been reached. There is no waiting list, even in case of cancellation.
Har dere førstehjelp ute i løypa?
Vi har to ambulansebiler fra Norsk Folkehjelp på vakt, med Fossum og Lysakerelva som utgangspunkt. Den ene vil fra utpå dagen ha base i målområdet. Vi varsler også Norsk luftambulanse om arrangementet. Ellers minner vi om at du deltar på eget ansvar, men om uhellet skulle være ute må du ringe telefonnumre som er oppgitt på startnummeret. Er det ikke bruddskader eller livstruende må du finne ut hvor nærmeste transportpunkt er. 
When do you close the registration?
Friday night, the day before race day. Unless it gets sold out. 
Can my dog join the race?
Is it possible to cheat in Ecotrail?
Start mat and crossing points/interims. If you are not registered at these, your finish time will be disapproved. 
Why does it say DNS in the results?
Why does it say DNF in the results?
DID NOT FINISH. The runner was registrated at start, but didn´t make it all the way to the finish line. 
I have to cancel the race, can I please have my money back?
We do not refund, but  you can transer your registration to another person. Go to EQ Timing  and click "transfer"
I have signed up but can I switch to another distance?
Are the races accurate in distance?
We have tracked it with several devices. It will never be accurate, least not through the forests.
Any age limit in Ecotrail Oslo?
Do you recommend trail or ordinary running shoes on race day?
Depending on your distance/race. We recommend trail shoes if wet conditions. If dry conditions, you´ll be fine with ordinary shoes. Except 10 km, this is easy trail and you´ll be fine with ordinary running shoes. 
When is cut off/what´s the time limit?
Time limits for each race is listed on the pages below Races. Click Race on the left menu and choose your distance. See icon for Time Limit.
Can I transfer my Bib number?
You can transfer ordinary Bibs only. If you registered with a free code, you can not sell or transfer. Learn more about how you transfer here.
Use of support during the race
Inside the support station areas only!
I want to change my info/distance/re-register. Where?
Not sure if I actually signed up for the race! How do I find out?
How do I get to the start area?
Practical information is listed under each race. Choose your race in the left menu, click races, scroll down the page. You will see icons for train and bus, and info written behind these icons.
Do I need a medical certificate for Ecotrail Oslo?
No, you don´t need one in Oslo. You participate at your own risk! 
When can I pick up my Bib at the 80 km start?
Start area 80 km opens at 06.45. You should be there no later than 15 minutes before start at 8 am.
Can I pick up my Bib at start?
Can my friend pick up my Bib number.
Yes. Bring your start number. Before distribution we will send out a text message with your start number attached. if you dont receive this text, log in where you registered and get your start number there.