Back to top
FAQ
Where do I find the list of participants?
Alle får flott medalje med distanse på. (Inkludert i startkontingenten). I år er det ikke årstall på medaljen grunnet usikkerhet med pandemiavlysninger. Medaljene er dyre å lage, og det tar lang tid å lage dem. Produksjonen ble påstartet for lenge siden, og det var vanskelig å vite hvor mange vi skulle bestille i forhold til deltagere som ville bli flyttet til neste år. Derfor er det en løsning med universal medalje uten årstall - men altså fortsatt med distanse. :)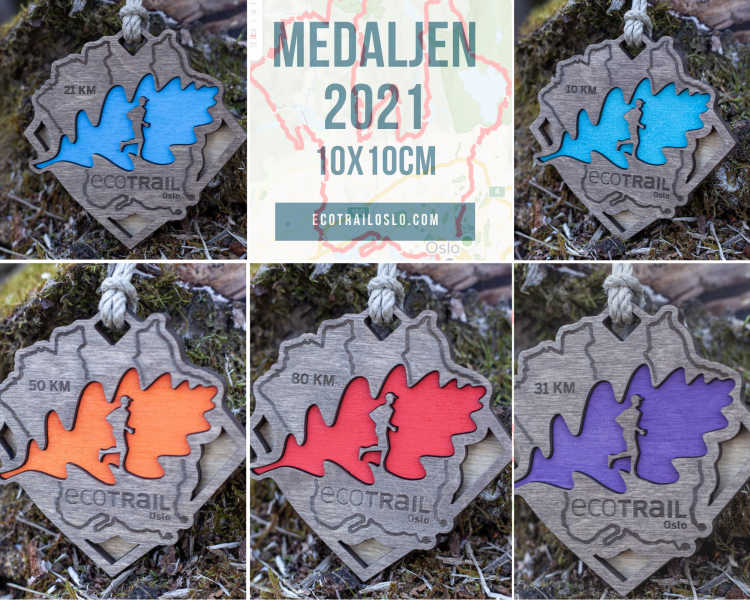 Hvordan selger jeg/gir bort mitt startnummer?
STARTNUMMERET KAN GIS/BORT SELGES FREM TIL STARTNUMMERET HENTES.
For å endre navn og annen info må du logge deg inn på din profil.
Skal du selge (med innbyrdes oppgjør) eller gi bort ditt startnummer må du endre din epostadresse til den som skal overta. Husk og klikk OPPDATER.
Den som overtar må dernest be om passord til sin epostadresse. Be om nytt passord på deltakerlogin-siden.
Den som overtar startnummeret må også huske å endre fødselsdato for å komme i riktig årsklasse på resultatlisten, og annen info. 
Viktig: Husk alltid å sjekke spamboksen når du ber om nytt passord! 
Hvordan endrer jeg distanse – og når er fristen?
FRISTEN ER 10 DAGER FØR LØPET
For å endre må du først logge deg inn på din profil.
Dernest gjør du følgende 
Endre til kortere distanse (gratis):
Klikk REDIGER
Klikk på distansen og velg en kortere distanse
Klikk OPPDATER
Endre til lengre distanse (mellomlegg må betales):

Klikk BYTT TIL LENGRE DISTANSE
BEKREFT
Skriv ned/kopier voucherkoden og klikk "FORTSETT"
Da vil du se at du blir "kastet ut" av login. 
Gå så til påmelding og velg distansen du vil oppgradere til. Fortsett til betaling og lim inn voucerkoden du kopierte. 
Beløpet som da vises er mellomlegget du skal betale. Straks du har betalt får du først en betalingsbekreftelse. 
Dernest får du en epost til (sjekk eventuelt spamboks..), med en link som fører deg rett inn til din profil for å fullføre obligatorisk deltakerinformasjon.
Til slutt klikker du OPPDATER.
Hadde du bestilt Devold-deltagertrøye til løpet 2020 (som ble avlyst) får du denne utdelt sammen med startnummeret.  
Vi har en liste over de som bestilte. Noen har overtatt startnr for andre, navnet på den som opprinnelig bestilte trøye må i såfall oppgis ved henting.
(Om du ikke husker om du bestilte, ser du det på kvittering (sjekk spamboksen...) du fikk på epost fra EQ Timing. Du skal også kunne logge deg inn på den tidligere EQ Timing-profilen din og se dette under din betalingsinformasjon der. Finner du ikke kvitteringen, finner vi alltids ut av om du står på lista over de som bestilte når du henter startnummeret.)
Trøye kan også kjøpes når du henter startummeret. Det er ikke mulig å forhåndsbestille.
Hvor laster jeg ned gpx og hvor finner jeg løypekartet?
I menyen til venstre, eller i "hamburgermenyen" på mobilversjonen, kan du velge distanse. På hver distanseside ligger det et kart som du kan zoome deg inn på. Og link til GPX-fil som du kan laste ned.
Merk at det kan forekomme små endringer i løypa. I en stor by bygges det ustanselig, det medfører løypeendringer her og der. Kartet vi har lagt ut er både etter sporing med klokker og tegnet inn. Så ikke bruk gpx-filene som veiviser under løpet da det altså kan forekomme endringer. Vi merker jo uansett løypa godt på selve løpsdagen.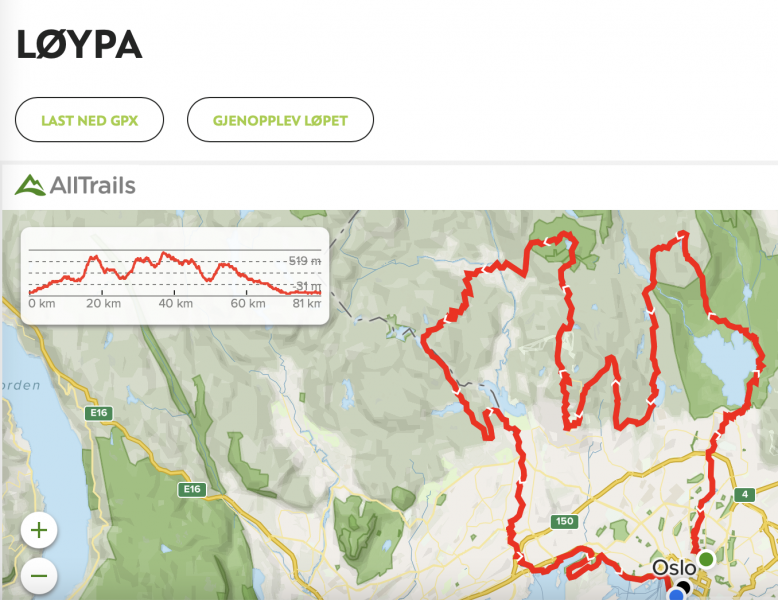 I desktopversjonen kan du klikke på den lille linken som ligger rett over kartet på høyre side, "Ecotrail80km2019".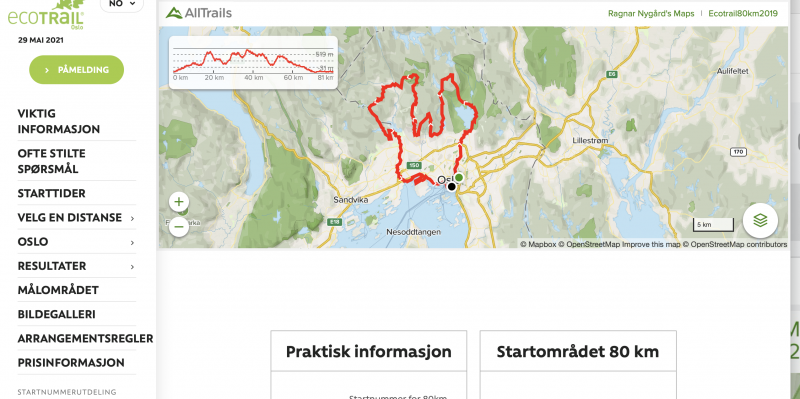 Når du har klikket på linken "Ecotrail80km2019" rett over kartet, kommer du videre til Alltrails og ser dette bilde (desktopversjon). Under kartet kan du dra musa over høydeprofilgrafen for å se kilometerpunkter osv.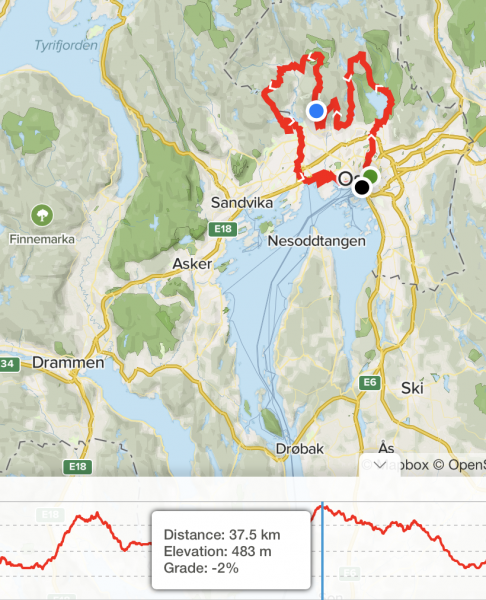 Du kan også klikke på de hvite boblene for flere valgmuligheter. F.eks "overlays" for å få kilometerpunkter synlig på selve kartet.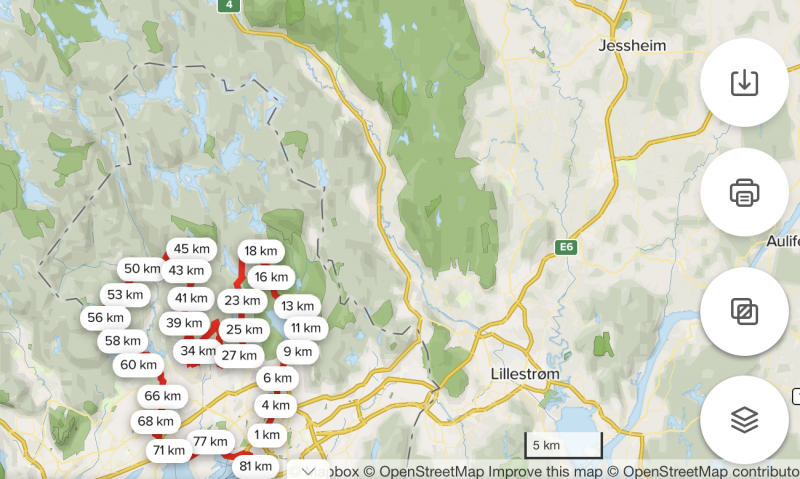 Mobilversjon: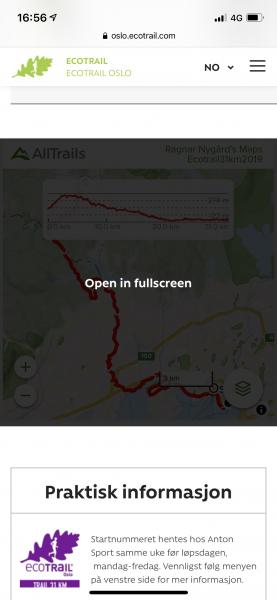 Når du har klikket på kartet kommer dette opp. Vil du har flere alternativer for kartet, klikker du på den nederste av de to små linkene som ligger rett over kartet. Altså "Ecotrail31km2019".
If you pass these stations after they are closed, you are still timed. The registration mats are located at all support stations and other places.
The most important thing is that you reach the finish line by 8PM.
Should you have a bad day and arrive after 8PM, you will still get your time registrated - but we must start to rig down the finisher area no later than 8PM.
Hønefoten water/sportdrink station for 80 km closingr 09:15 AM
Support station Holmenkollen (same area as  50km start) cosing 12.15PM
Support station Sørkedalen (samme area as 31km start) closing 4PM
Support station Fossum (same area as 21km start) closing 5.30PM
Water station Thaugland - for all distances - closing 7PM
Bygdøy - last intermediate for all distancesr (approx 7 km before finish) closing 7.30 PM
Finish: 8PM
SUPPORT: Within the support stations only. 
Will you serve food at the support stations in 2021?
80 km, 50 km and 31 km have support stations. See descriptions where these are - under "Choose distance".
Freshly baked buns from Baker Hansen, bananas and water / sports drinks. We will set up a strict system with infection considerations in mind.
If you have allergies (celiac disease, and / or other), bring your own nutrion with from start. 
21 km, 21 km Walk and 10 km have only drinking stations (water and sports drinks), see descriptions where these are along the trail - under "Choose distance".
At finish line; water and sports drinks.
In the rest of the area, which is operated by Salt, there will be ordinary serving (bars and food trucks). 
Can we registrate as a team with one invoice?
Where do I log in to my profile?
If you can´t find the confirmation email when you registered and don´t remember the email you registered with, get in touch and we will help you out.
Questions about poles and the 21 km Nordic Walk
1:Is it mandatory to walk with poles on the 21 km Nordic Walk?
Absolutely not. 
2: I would like to walk with poles, can I rent or borrow from Ecotrail Oslo?
Sorry, we do not have this service.  You should try poles at a retailer, get the correct height and make sure you buy a pair you feel comfortable walking with. 
Will you mark the trail with flagging tape?
Yes, yellow/red flagging tape all the way +  white paint on the ground at crossings. In addition to this there will be signs at critical points. (New of 2019)
We have two ambulances on duty, with Fossum and Lysakerelva as a starting point. And a first aid base in the finisher area.  Otherwise, we remind you that you participate at your own risk, but if an accident should occur, you must call telephone numbers that are stated on the start number. If there are no fractures or life-threatening, you must find your way to the nearest public transport. 
How will my time be registered during the race?
From the moment you step on the start mat and at crossing points/interims. If you are not registered at these, your finish time will be disapproved. During race day your beloved ones can follow you live online. We will publish this link in advance of the race.
Are the distances accurate?
We have tracked them with several devices. It will never be accurate, least not through the forests. The longer the distance, the more variations on participant´s devices...Normally 0,5 up to 3 km in difference for the 80km distance. 
Do I need a medical certificate for Ecotrail Oslo?
No, you don´t need one in Oslo. You participate at your own risk! 
Can my friend pick up my Bib number?
Yes. Before distribution we will send out a text message with your start number attached. if you dont receive this text, log in where you registered and get your start number there. Bring a copy (for example a screenshot on your phone) of your friend´s registration.