Back to top
FAQ
Where do I find the list of participants?
How do I change my name and/or transfer the start number to another person?
To change your name and other info, you must log in to your profile.
If you are going to sell (with mutual settlement) or give away your start number, you must change your email address to the other person. Remember and click UPDATE.
The person taking over must then ask for a password to their email address. Request a new password on the participant login page.
The person who takes over the start number must also remember to change the date of birth to get in the correct class on the results list, and other info.
Important: Always remember to check the spam box when requesting a new password!
How do I change to a longer or shorter distance?
Log in to your profile at Ultimate.
Change to shorter distance (free):
Click EDIT in your user profile
Click on the distance and select a shorter distance
Click UPDATE
Change to longer distance (intermediate must be paid):
Click UPTADTE TO LONGER DISTANCE
CONFIRM
Write down / copy the voucher code and click "CONTINUE"
Then you will see that you are "thrown out" by login.
Then go to registration and select the distance you want to upgrade to. Proceed to payment and paste the voucher code you copied.
The amount that is then displayed is the amount you have to pay. Once you have paid, you will first receive a payment confirmation.
Next, you will receive another email (check any spam box ..), with a link that takes you straight to your profile to complete mandatory participant information.
Finally, click UPDATE.
Hadde du bestilt Devold-deltagertrøye til løpet 2020 (som ble avlyst) får du denne utdelt sammen med startnummeret.  
Vi har en liste over de som bestilte. Noen har overtatt startnr for andre, navnet på den som opprinnelig bestilte trøye må i såfall oppgis ved henting.
(Om du ikke husker om du bestilte, ser du det på kvittering (sjekk spamboksen...) du fikk på epost fra EQ Timing. Du skal også kunne logge deg inn på den tidligere EQ Timing-profilen din og se dette under din betalingsinformasjon der. Finner du ikke kvitteringen, finner vi alltids ut av om du står på lista over de som bestilte når du henter startnummeret.)
Trøye kan også kjøpes når du henter startummeret. Det er ikke mulig å forhåndsbestille.
Hvor laster jeg ned gpx og hvor finner jeg løypekartet?
I menyen til venstre, eller i "hamburgermenyen" på mobilversjonen, kan du velge distanse. På hver distanseside ligger det et kart som du kan zoome deg inn på. Og link til GPX-fil som du kan laste ned.
Merk at det kan forekomme små endringer i løypa. I en stor by bygges det ustanselig, det medfører løypeendringer her og der. Kartet vi har lagt ut er både etter sporing med klokker og tegnet inn. Så ikke bruk gpx-filene som veiviser under løpet da det altså kan forekomme endringer. Vi merker jo uansett løypa godt på selve løpsdagen.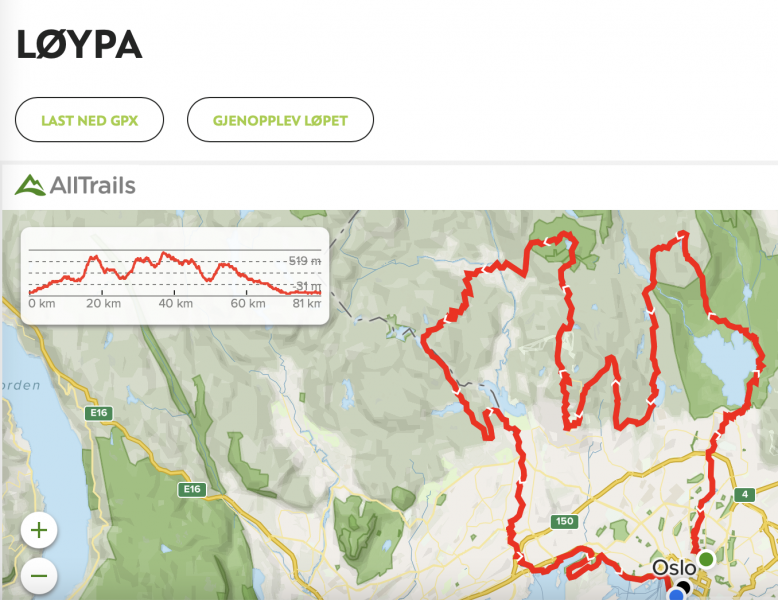 I desktopversjonen kan du klikke på den lille linken som ligger rett over kartet på høyre side, "Ecotrail80km2019".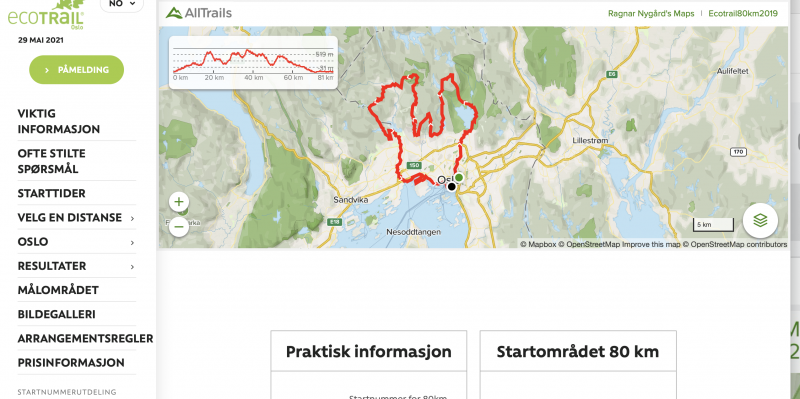 Når du har klikket på linken "Ecotrail80km2019" rett over kartet, kommer du videre til Alltrails og ser dette bilde (desktopversjon). Under kartet kan du dra musa over høydeprofilgrafen for å se kilometerpunkter osv.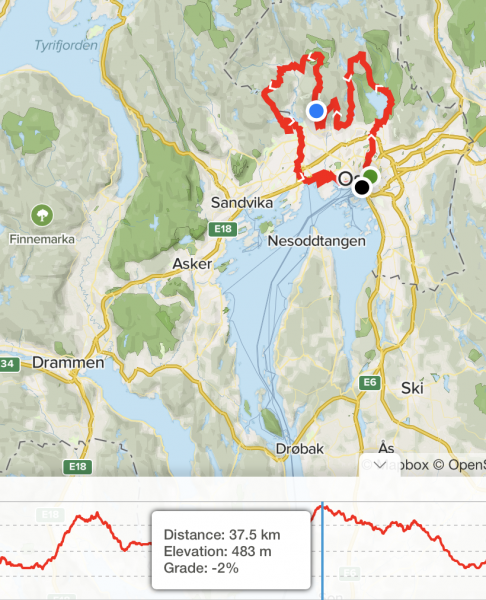 Du kan også klikke på de hvite boblene for flere valgmuligheter. F.eks "overlays" for å få kilometerpunkter synlig på selve kartet.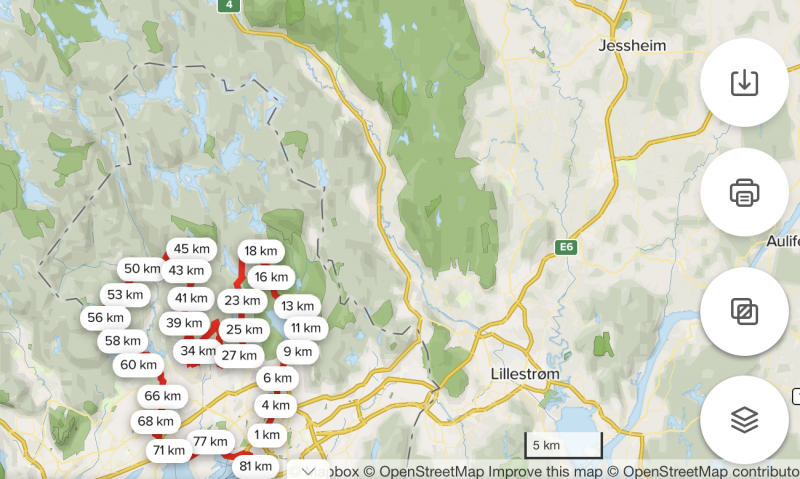 Mobilversjon: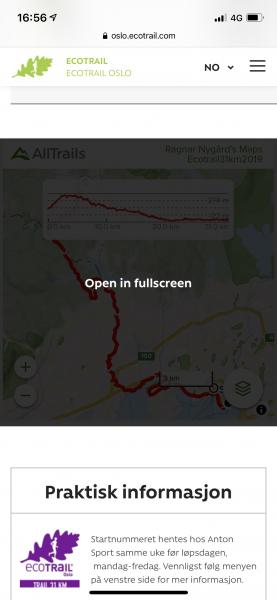 Når du har klikket på kartet kommer dette opp. Vil du har flere alternativer for kartet, klikker du på den nederste av de to små linkene som ligger rett over kartet. Altså "Ecotrail31km2019".
If you pass these stations after they are closed, you are still timed. The registration mats are located at all support stations and other places.
The most important thing is that you reach the finish line by 8PM.
Should you have a bad day and arrive after 8PM, you will still get your time registrated - but we must start to rig down the finisher area no later than 8PM.
Hønefoten water/sportdrink station for 80 km closingr 09:15 AM
Support station Holmenkollen (same area as  50km start) cosing 12.15PM
Support station Sørkedalen (samme area as 31km start) closing 4PM
Support station Fossum (same area as 21km start) closing 5.30PM
Water station Thaugland - for all distances - closing 7PM
Bygdøy - last intermediate for all distancesr (approx 7 km before finish) closing 7.30 PM
Finish: 8PM
SUPPORT: Within the support stations only. 
Will you serve food at the support stations in 2021?
80 km, 50 km and 31 km have support stations. See descriptions where these are - under "Choose distance".
Freshly baked buns from Baker Hansen, bananas and water / sports drinks. We will set up a strict system with infection considerations in mind.
If you have allergies (celiac disease, and / or other), bring your own nutrion with from start. 
21 km, 21 km Walk and 10 km have only drinking stations (water and sports drinks), see descriptions where these are along the trail - under "Choose distance".
At finish line; water and sports drinks.
In the rest of the area, which is operated by Salt, there will be ordinary serving (bars and food trucks). 
Can we registrate as a team with one invoice?
Where do I log in to my profile?
If you can´t find the confirmation email when you registered and don´t remember the email you registered with, get in touch and we will help you out.
Questions about poles and the 21 km Nordic Walk
1:Is it mandatory to walk with poles on the 21 km Nordic Walk?
Absolutely not. 
2: I would like to walk with poles, can I rent or borrow from Ecotrail Oslo?
Sorry, we do not have this service.  You should try poles at a retailer, get the correct height and make sure you buy a pair you feel comfortable walking with. 
Will you mark the trail with flagging tape?
Yes, yellow/red flagging tape all the way +  white paint on the ground at crossings. In addition to this there will be signs at critical points. (New of 2019)
We have two ambulances on duty, with Fossum and Lysakerelva as a starting point. And a first aid base in the finisher area.  Otherwise, we remind you that you participate at your own risk, but if an accident should occur, you must call telephone numbers that are stated on the start number. If there are no fractures or life-threatening, you must find your way to the nearest public transport. 
How will my time be registered during the race?
From the moment you step on the start mat and at crossing points/interims. If you are not registered at these, your finish time will be disapproved. During race day your beloved ones can follow you live online. We will publish this link in advance of the race.
Are the distances accurate?
We have tracked them with several devices. It will never be accurate, least not through the forests. The longer the distance, the more variations on participant´s devices...Normally 0,5 up to 3 km in difference for the 80km distance. 
Do I need a medical certificate for Ecotrail Oslo?
No, you don´t need one in Oslo. You participate at your own risk! 
Can my friend pick up my Bib number?
Yes. Before distribution we will send out a text message with your start number attached. if you dont receive this text, log in where you registered and get your start number there. Bring a copy (for example a screenshot on your phone) of your friend´s registration.