Back to top
FAQ
Will there be photos from the race and of all the participants?
Yes, at six nice spots along the trail. Remember to have your bib in front,  otherwise it will not be possible for you to search for your photos.
The photos are taken by Sportograf, and they will be available here: sportograf.com/event/9527
In addition to those photos, we have our own video team, and they have a good plan for the day :-)
What are the locations for the support stations and what to eat/drink?
Depending on what distance your are running 
80Km has all stations.
50km has 3 stations.
31 km has 2 stations.
21 km has 1 station.
10 km has 1 station.
Hønefoten water/sportdrink  First station for 80 km. Open between 7:30- 9:15 AM . Water, sportsdrink
Support station Holmenkollen (same area as  50km start) Closing 11.15AM. 

Water, sportsdrink, fruit, sweets

Support station Sørkedalen (samme area as 31km start) Closing 4PM. 

Water, sportsdrink, bouillon, fruit, sweets and more

Support station Fossum (same area as 21km start) Closing 5PM. 

Water, sportsdrink, bouillon, fruit, sweets and more

Water station Thaugland - for all distances. Closing 7PM. Water, sportsdrink
Finish: 8PM. 

Water, sportsdrink and something to grab. In 2023: Popsicle and various. Plus fishcake to the four longest distances.

SUPPORT: Within the support stations only. 
When we clear the finisher area from 8pm we put forgotten belongings inside Vippa. The big building with grafitti. 
You have to pick up yourself and you have to check yourself Vippa´s opening hours. 
When you pick up, refer to Ecotrail Oslo, and describe your belonings.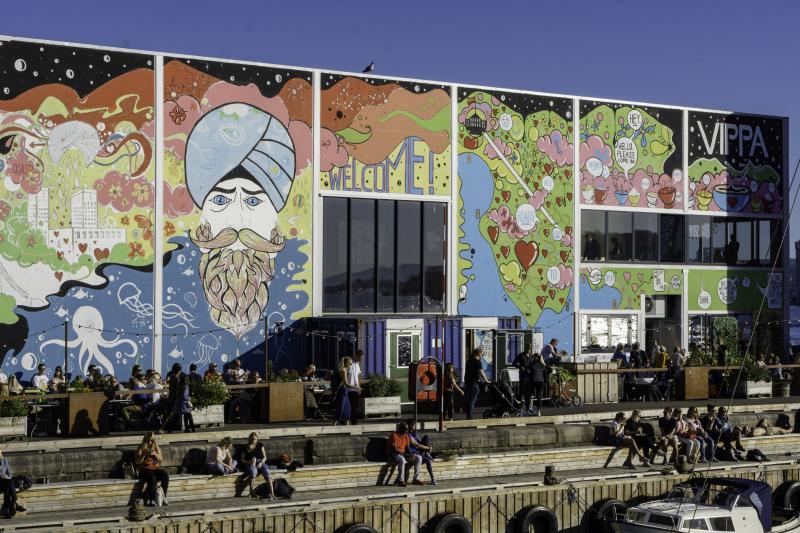 Where do I find the map and gpx?
EDIT MAY 9TH: If you are running 50k or 80k and already have downloaded the gpx, redownload upon race day. We have to do some minor adjustments due to road constructions. 
--
To explore the new map, choose your distance via the menu.
On the pages for each distance you will find a new map. If you use gpx, you can download directly from our page.
The only thing left is to fix a technical bug to get the map integrated on our pages.
In the meantime, you must click on the map image and you will be taken to Strava. There you can zoom in, explore the track and see what is path, gravel and asphalt and much more.
We will of course mark the trail on race day, but if you have participated in Ecotrail Oslo before please note that there are minor and major changes:
Nice new loop (2 km long)  from the start for 50 km. So now the trail is actually 50 km.
Other distances, and including the 50km distance:
Correction last 21 km and along the Lysakerelven.  Change the last 5 km (Bygdøy), and a major change the last kilometer to the finish line!
The very last kilometer goes over the old fort called Akershus Festning and to finish at the pier called Vippa.
Why can't I pick up bib at start area?
There are various and good reasons for that.
As for 2024 we have Print On Demand. Meaning that these 3 machines can only be served at one location. 
The only exception is for 80KM: Unclaimed bibs will be printed Friday night and transported to start area on race day. 
Bib distribution same week as race day:  Address is Anton Sport, Bogstadveien 2. 
See more info via menu on this web site, click "Bib distribution" 
:)
What shoes do you recommend?
It depends on the distance you have signed up for.
And the weather conditions, and not to mention the ground conditons! 
If you're going to run 10km, you don't need mountain shoes. The 10K has gravel and asphalt. All of the Ecotrail Oslo distances ends on asphalt the last 5km. 


Otherwise, 80km, 50km, 31km and 21km have a mixture of dirt road, asphalt, trail and  technical. If it is dry, it is perfectly fine to run with a "road oriented" shoe.

If it is wet, a sole that provides grip is recommended. We don't yet know what it will be like on Saturday 20 May, but we are keeping an eye on both the weather and ground. You probably do too! :)
The three longest distances are gonna run some parts where there is full snow melting going on!

We have a shoe partner and they are called Hoka. So all text below goes under "advertisement".
But the two guys who work with the Hoka shoes in Norway are excellent runners themselves (and incidentally winners of our 50, 31 and 21 km)

They say that their recommendations below will actually apply to most distances. But if the conditions are dry, you can perhaps allow yourself to choose a bit more road-oriented, especially at 10km.

Regardless,

Tecton X 2 / Tecton X is their top recommendation. And then they add a couple of other options that might be relevant:


Tecton X 2 / Tecton X
Here you get a shoe packed with features that are perfect for the Ecotrail. A well-cushioned but responsive midsole will take good care of your legs whether you run long or a little shorter. The sole has 4 mm Vibram Megagrip studs that ensure good grip on the trails. In addition, this shoe has carbon plates, which will both protect and give you a very good response in the stride. The upper provides good foot support and there is plenty of room for the toes at the front of the last. This shoe was used by the winners of both the 50km and 31km last year, so no doubt this is a good choice for the Ecotrail. You can buy this shoe at Anton Sport during the start number distribution!


Mafate Speed 4
Well-cushioned trail shoe with a responsive midsole. With this shoe, you are guaranteed a very good grip during the race, and can be a sensible choice if the conditions are wet/slippery. A robust shoe that will take good care of your legs if you run one of the longer distances!

Speedgoat 5
Solid and well-cushioned all-terrain shoe with very good grip. The Speedgoat is a real workhorse in the terrain, and will be a good choice for you who put comfort and stability on the trail first and foremost. The shoe is so well cushioned that it will cope well with the transport stage for the last few kilometers on asphalt, even if it is a mountain shoe.

Torrent 3
Do you want a slightly lower shoe and more contact with the ground? Then Torrent 3 is a good choice! Here we have a light and flexible shoe with a responsive midsole and you get good contact with the ground on the trail. Perhaps particularly relevant for the slightly shorter distances.
Why can't I ask for a refund or transfer to next year or to another Ecotrail event?
The registration is binding.
However, you can give away/sell your registration to another person on your behalf. In order to do this, you have to change the email in your profile. The other person must then ask for a new password with that email and type correct info (name, adress etc). Payment´s organized beween the two of you. See more in FAQ overview.
It is not possible to transfer to next year or to a another Ecotrail event as these have seperated registration and economy.
Please read more in Race Rules, listed in the main menu. 
Vi har gavekort for hver distanse! 
Når du kjøper gavekort får du det tilsendt som pdf på epost. På gavekortet er det oppgitt en kode som mottaker skal bruke når hen registrer seg til løpet innen 20.mai 2023.
Husk å sjekke spamboks etter at du har kjøpt gavekortet! Kan hende eposten med gavekortet havner der...
Do you transport luggage from start to finish?
Yes :) One bag only. We transport from start to finish. All distances. Your bib number will contain one luggage tag with similir number, tear this off and put it on your bag.
10 Km: Please not that that the truck leaves ten minutes before start.
We do not take responsibility for any damages. Be sure to pack your belongings in a waterproof bag in case of rain!
When do you close the registration?
If not sold out, it is open till race day and closing 9am
Can I register multiple participants / sign up a team?
Yes, please reach out by email and you will receive a code for your team. Contact info at the bottom of this web site.
I didn't receive email confirmation and bib information
Did you check your spambox? Emails have been sent out to all participants. If you havent´t got it and need to know your bib, check the participants list.Remember to choose "navn/name" in the menu
Confirmation email: When you have fulfilled your registration it normally takes a few minutes before you receive confirmation by email. Remember to check spambox.
If you don´t receive any emails at all, you probarly typed wrong address. Also, those who use Hotmail seem to have an issue with not receiving, maybe due to strict spamfilter?
If you typed wrong email address, contact us so we can correct it for you.
Where can I purchase the race shirt?
How do I cancel my registration?
Log in to your profile.  
Click "delete registration". Please note, once you have deleted, you can not undo. 
Also, please note: Do not choose this option if want to sell/give your registration to someone else. If so, follow instructions on how to change your registration. 
And do remember to check your spambox if you requested a new password for login :)
When can I see the start number/bib in my profile?
Your bib number will show approx 5-7 days before race day. 
Where do I find the list of participants?
Please remember to click on the menu first, and choose "navn" (Norwegian for Name"). If you are registrated with several sur names, you may have to try and type just one of them.
Click screenshot and you´ll be taken to the particicpant´s list.


How do I change my name and/or transfer the start number to another person?
To change your name and other info, you must log in to your profile.
If you are going to sell (with mutual settlement) or give away your start number, you must change your email address to the other person. Remember and click UPDATE.
The person taking over must then ask for a password to their email address. Request a new password on the participant login page.
The person who takes over the start number must also remember to change the date of birth to get in the correct class on the results list, and other info.
Important: Always remember to check the spam box when requesting a new password!
How do I change to a longer or shorter distance? DEADLINE MAY 15th
Note:Bibs will be produced May1st, so If you change distance after May1st you will be running with your original bib. Example: If you signed up for 50km, but after May1st change to longer or shorter distance you will be registrated for the new distance, but your bib will still the original (i.e 50km)
If you have changed distance after May1st, you must pick up your bib no later than May 19th  7PM. 
Log in to your profile at Ultimate.
Change to shorter distance (free):
Click EDIT in your user profile
Click on the distance and select a shorter distance
Click UPDATE
Change to longer distance (intermediate must be paid):
Click UPTADTE TO LONGER DISTANCE
CONFIRM
Write down / copy the voucher code and click "CONTINUE"
Then you will see that you are "thrown out" by login.
Then go to registration and select the distance you want to upgrade to. Proceed to payment and paste the voucher code you copied.
The amount that is then displayed is the amount you have to pay. Once you have paid, you will first receive a payment confirmation.
Next, you will receive another email (check any spam box ..), with a link that takes you straight to your profile to complete mandatory participant information.
Finally, click UPDATE.
Where do I log in to my profile?
If you can´t find the confirmation email when you registered and don´t remember the email you registered with, get in touch and we will help you out.
Questions about poles and the 21 km Nordic Walk
1:Is it mandatory to walk with poles on the 21 km Nordic Walk?
Absolutely not. 
2: I would like to walk with poles, can I rent or borrow from Ecotrail Oslo?
Sorry, we do not have this service.  You should try poles at a retailer, get the correct height and make sure you buy a pair you feel comfortable walking with. 
Will you mark the trail with flagging tape?
Yes, yellow/red flagging tape all the way +  white paint on the ground at crossings. In addition to this there will be signs at critical points. (New of 2019)
We have two ambulances on duty, with Fossum and Lysakerelva as a starting point. And a first aid base in the finisher area.  Otherwise, we remind you that you participate at your own risk, but if an accident should occur, you must call telephone numbers that are stated on the start number. If there are no fractures or life-threatening, you must find your way to the nearest public transport. 
How will my time be registered during the race?
From the moment you step on the start mat and at crossing points/interims. If you are not registered at these, your finish time will be disapproved. During race day your beloved ones can follow you live online. We will publish this link in advance of the race.
Are the distances accurate?
We have tracked them with several devices. It will never be accurate, least not through the forests. The longer the distance, the more variations on participant´s devices...Normally 0,5 up to 3 km in difference for the 80km distance. 
Do I need a medical certificate for Ecotrail Oslo?
No, you don´t need one in Oslo. You participate at your own risk! 
Can my friend pick up my Bib number?
Yes. Before distribution we will send out a text message with your start number attached. if you dont receive this text, log in where you registered and get your start number there. Bring a copy (for example a screenshot on your phone) of your friend´s registration.